Theme: Connecting Global Leaders, Innovators and Investors to Map Out the Future of Food
Food Technology Congress 2020
Encouraged with the success of previous series of conferences, we are delighted to announce our upcoming 3rd International Conference on Nutrition, Food Science and Technology at Abu Dhabi, UAE during September 28-29, 2020 to witness invaluable scientific discussions and contribute to the future innovations in the field of Food Science, Processing and Technology.
Working under the theme "Connecting Global Leaders, Innovators and Investors to Map out the Future of Food" we bring together clinical nutritionists, registered dieticians, and other health-care professionals, top experts researchers and students. Food Technology Congress 2020 takes an initiative to offer health practitioners an understanding about the vital role of nutrition in Food science. The two days of the Conference includes Food Science Workshops, Oral and Poster Presentation, Symposiums, Career Guidance Sessions, Young research forums.
Join us and take part in carving out a Healthier Tomorrow @ Abu Dhabi, UAE
WHO ATTENDS?
Clinical Nutritionists
Food Technology Researchers
Nutrition Associations and Societies
Scientists
Researches
Dietitians
Students
Quality Control officers
Quality Assurance officers
Food Engineers
Business Entrepreneurs
Industry Professionals
Public Health Professionals
Fitness Professionals
Nutrition is used to study the Physical and Chemical structure of nutrients and other substances in food in relation to growth maintenance, reproduction, health and disease of an organism. Nutrition studies the interactions between living organisms and food. Nutrients are substances in food required by the body for growth, energy, maintenance, and repair. The Health Choice Movement is the global movement about the right to know what is going into our bodies and having the freedom to make that choice. Exercise, healthy living practices, and alternative medical treatments are also often adopted by Health Choice.
Food science is used to study physical, biological, and chemical makeup of food, and the concepts underlying food processing. Food technology is one of the applications of food science to the, preservation, processing, packaging, distribution, selection and use of safe food. Food chemistry is used to study the chemical processes and interactions of all biological and non-biological of foods components. It covers the basic composition, structure and properties of foods and chemistry changes occurring during processing and utilization. It also focuses on the chemistry of water, carbohydrates, proteins, lipids, vitamins, minerals and enzymes.
At every stage of women's life, nutrition and regular exercise are the essentials for good health and healthy growth. But vitamins and minerals become important for a healthy women . Many of the health issues of women at different life stages are affected by nutrition. Diet is one lifestyle factor that is flexible to change. Health practitioners have a significant role to play in helping women to adopt a healthier diet.
Nutritional disorder is one of the major challenges before the health care providers in several countries. Nutritional disorder is not due to the deficiency of micronutrients and nutrients alone, but also due to the body's inability to absorb and assimilate them from the food. Malnutrition is not only a simple nutritional issue, but associated with social and economic factors. Creating awareness about healthy diet, good living habits, hygiene, health education are necessary to overcome Nutritional disorder. Nutrients are required to maintain good health. The energy yielding nutrients are proteins, carbohydrates and fats. Dietary fibbers, vitamins and minerals such as calcium, iron, chloride, magnesium, phosphorus, potassium and sodium are other essential supplements which are required to keep the immune balance and good health.
Nutrigenomics is the application of genomic principles in nutritional research, enables us to formulate associations between nutrients and genetic factors. Nutrigenomics describes that how your genes interact with nutrients. It clarifies that how our DNA and genetic code affect our need for certain nutrients and also within specific quantities and helps in maintaining optimal health throughout life. Nutrigenetics one of the objectives is to recognize in what way genetic difference affects response to nutrients. This evidence can be in practical to boost health, and inhibit diseases. The final aim of Nutrigenetics is to offer modified nutrition based on their genetic character.
Nutrition is the processes by which human beings, animals and plants take in and utilizes food substances. Dietetics is the science of applying food nutrition to health. It is a vital, growing field which helps in creativity and opportunity and the possibilities are endless. A dietitian or (dietician) is an expert in dietetics who provides required information to their patients and saves from food disorders and illness.
Being overweight then the required or obese affects an individual to many medical problems including diabetes, high blood pressure, heart disease, stroke, constipation, depression and some types of cancer. Genes can affect the amounts and types of food that we prefer to eat. We can observe that some people stay thin whatever they seem to eat and some become obese. Research shows that obesity tends to run in families and studies with twins and adopted children have shown that genes play a key role in this. The greatest risk is for diabetes where a body mass index above 35 kgs increases the risk by 93-fold in women and by 42 kgs in men. The risk of coronary heart disease is rapidly increased to 86% by a 20% rise in weight in males. Elevation of blood pressure, hyperlipidemia and high risk from coronary heart disease are seen.
There are many factors that contribute to a person's weight, including diet, physical activity, genetics, medications, and illnesses. Each of these factors affect weight in different ways, but health professionals most often stress the importance of diet and physical activity above all other factors because they can be affected by strategic behavior modification. The science behind weight management is difficult, but one of the key concepts that help in weight management is Energy Balance. Energy Balance is the idiom used to describe the difference between the number of calories a person consumes and the number of calories that same person expends in a given time period. Dietary management is also known as Foodservice Management and it is one of the practices of providing nutritional choices for individuals and groups with diet concerns through management of foodservices. In Canada, about 48% of adults, or 11.5 million people, are overweight or obese without a proper food diet.
A food allergy is a unusual immune response to food . The symptoms of the allergic reaction may vary from mild to severe. They may include itchiness, swelling of the tongue, vomiting, diarrhea, low blood pressure. A food intolerance and food poisoning are two conditions, caused due to an improper immune response. Food hypersensitivity is used to refer both food intolerances and food allergies. Intolerance can result from the absence of specific chemicals or enzymes needed to digest a food substance and it may be a result of an defect in the body's capacity to absorb nutrients, as occurs in fructose malabsorption.
Food allergies and Food intolerance usually have a fast onset and may include:
Nutritional value is used to provide well-balanced ratio of the essential nutrients like carbohydrates, fat, protein, minerals, and vitamins in items of food or diet. Food quality is an essential for food manufacturing requirement, because food consumers are exposed to any form of detoxification that may occur during the manufacturing process. Food quality and food safety are the main targets of investigation in food production activities. Therefore, reliable paths to notice, classify, characterize and monitor quality and safety issues occurring in food are of great interest. Food quality also deals with product traceability, (e.g., of ingredient, and packaging suppliers), recall of the product be required. It also deals with labeling, packaging of products and quality issues to ensure there is correct ingredient and nutritional information.
Food processing Technology includes set of physical and chemical techniques in the transformation of food ingredients or agricultural products into food. It includes many forms of processing foods, such as grinding grain to make raw flour to home cooking and complex industrial methods used to make convenience foods. Benefits of food processing include toxin removal, preservation, easy marketing and distribution tasks, increasing food consistency and improves quality of food. With the help of food processing technology a large profit potential exists for the manufacturers and suppliers of processed food products.
Food safety is foremost measure which is used as a scientific discipline describing preparation, and storage of food in the way that prevent food-borne illness. Food safety considerations include the origins of food relating to food labeling, food hygiene, food packing, food additives, as well as policies in food technology guidelines for the management of governmental certification for quality food.
Food preservation prevents the growth of microorganisms as well as slowing the oxidation of fats that cause rancidity. Some traditional methods such as cooling, freezing, boiling, fermentation of preserving food have been shown to have a lower energy input when compared to modern methods (i.e; pasteurization, freeze drying, vacuum packing). If a food processing company wants to maintain its good quality standards and market image, appropriate specification schemes should be developed for all its products. Most companies need product specifications, which define the standard quality of their products and production procedures, such as picking, storage, delivery, supply and transportation.
As the advancement technology is increasing, the consumers have started using processed food more than the staples. Recent advances in food processing and Technology is not only important to meet the increasing productivity demands but to adopt refined automation, control and monitoring methods and techniques. Hence, the food which we consume every day is the result of widespread food research, a systematic investigation into a variety of food properties and compositions. There are many ways to discuss about food which has been discussed in various food events, food conferences in the simplest sense, food is a fuel, food provides the dynamism needed to perform daily functions and maintain metabolic processes.
Food packaging means packaging food and protecting food. A package provides protection, tampering resistance, information transmission and special physical, chemical, or biological needs. The packaged food consists of nutrition facts label and other information about food being offered for sale. Numerous reports industry states that use of smart indicators will increase. There are different indicators with different benefits for food producers, consumers and retailers. Temperature recorders are used to monitor products shipped in a cold chain and barcodes have been used for decades in packaging many products. These are some of the packaging technologies to ensure products are correctly packed and date coded.
Food marketing policies need to be considered as part of a broader development strategy that can affect food security and poverty alleviation. The food economics aims at controlling, coordinating and promoting research activities about the economy of the agro-food sector. The food marketing system is changing rapidly, especially as modern supply chains evolve to provision supermarkets and as concerns for food safety and origin are reflected in the purchasing decisions of increasingly prosperous consumers. Modern supply chains and supermarkets change the nature of farm market consumer communications.
Good manufacturing practices are essential for every manufacturing industry in order to obey the guidelines suggested by agencies that control the approval and licensing for the manufacture and sale of food, beverages, cosmetics and pharmaceutical products. The main purpose of GMP is always to prevent harm occurring to the end user from contamination. GMP is certified through the effective use of a quality management system. Good manufacturing practices, good and agricultural practices, are administered and controlled by administrative agencies in the, United States, United Kingdom, Canada, Europe, China, India and other countries.
Public Health focuses on the promotion of good health through nutrition and the primary prevention of nutrition related illness in the population. And approaches and provide solutions to nutrition related public health achievements, environmental fitness, community health, behavioral fitness, fitness economics, public coverage circumstances and problems around the world. Extended roles in dietetics, Sports nutrition, parenteral nutrition and its role in the surgical cardiothoracic patient are some of the case studies related to Nutrition health research. The main purpose of public health involvement is to enhance health and first class of life through prevention and remedy for nutrition disorders and illness.
SUMMARY
3rd International Conference on Nutrition, Food Science and Technology, welcomes speakers, exhibitors and delegates from all over the world to Abu Dhabi, United Arab Emirates during March 26-27, 2020. The major theme of the Conference is "Connecting Global Leaders, Innovators and Investors to Map Out the Future of Food". The organizing committee is preparing for an appealing and informative conference program including lectures, workshops, forum on a wide category of topics, poster presentations, young researcher forums and various programs for participants from across the world.
IMPORTANCE AND SCOPE
This conference is a important platform for inspiring international exchange and to promote their business at the food research conference. The conference is conducted for 2 days, where internationally renowned speakers will describe how their research journey have developed in response to contemporary challenges and also inspirational and innovative lessons from young researchers in food conference. The conference main idea is to provide information related to the Nutrition disorders and causes for defeciency in human nutrition, and rapid growth of food technology and food science globally. And also the companies dealing with nutritional products and supplements can exhibit their products in the Nutrition conference exhibition. We strongly believe that the "3rd International Conference on Nutrition, Food Science and Technology" will provide an opening for discussions in the field of Nutrition.
WHY ABU DHABI, UAE ?
Abu Dhabi is that the capital and therefore the second-most populated city of the United Arab Emirates. It is also the capital of the Emirate of Abu Dhabi, which is that the major of the UAE's seven emirates. The city of Abu Dhabi is situated on an island within the Persian Gulf, off the Central West Coast. Most of the town and therefore the Emirate exist within the mainland associated to the remainder of the country. As of 2019, Abu Dhabi's populated area had an assessed population of 1.45 million, out of 2.9 million within the emirate of Abu Dhabi, as of 2016.
Abu Dhabi firms local and federal offices and is that the home of the United Arab Emirates Government. The city is home to the President of the UAE, who may be a member of the Al Nahyan family. Abu Dhabi's swift development and urbanization, attached with the huge oil and gas reserves and production and relatively high average income, have distorted it into an outsized, developed metropolis.
The objective of this review is to gauge the nutritional status and dietary intake of youngsters (0-12 years) in selected EMR countries, namely, the United Arab Emirates, Jordan, Lebanon, and the Kingdom of Saudi Arabia. Children in the UAE are obese as they are taking more calories rather than eating a balanced diet, and this is a sign of malnutrition. Even both male and female adults are facing nutritional disorders because of improper food intake and that leads to lo obesity. Changes in nutrition consumption are in relation to changing economic, demographic, social, and health factors. It is documented that Arabian gulf countries have moved toward the upper fat and better-refined carbohydrates western diet. Major dietary Changes include an outsized increase within the Consumption of fat and added sugar within the diet, often a marked increase in animal food products contrasted with a fall in total cereal intake, and vegetable and fruit consumption.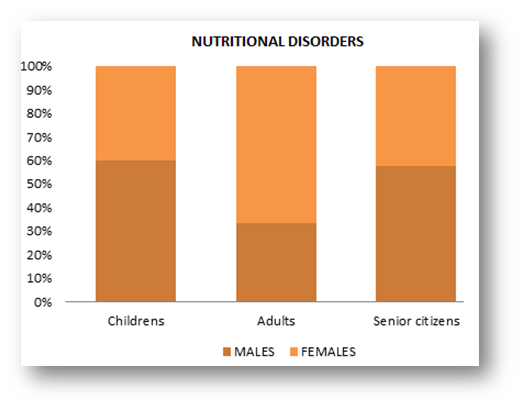 The United Arab Emirates has a very diverse population, of which only 10% are UAE nationals and the remainder is made up of expatriates or immigrants. The UAE has the 7th highest net migration rate in the world at 12.36, as any expatriate or immigrant is allowed into the country and under law to apply for UAE citizenship after living in the country for twenty years or above, assuming they have not been convicted to a crime and can speak Arabic. The prevalence of overweight in Gulf Cooperation Council (GCC) adults has been reported to be 48% amongst males and 35% amongst females, while the prevalence of obesity has been reported to be 24% amongst males and 40% amongst females. More specific to the UAE, one survey, conducted over 15 years ago (1999–2000) found that one third of the population was obese and over 40% overweight. As the population of the UAE is predominantly made up of immigrants, it is likely that by under-sampling this population group, the true prevalence of overweight and obesity in the UAE has not been fully captured. And moreover there are more population effected by the nutritional disorders such as malnutrition(obesity), overweight, diabetes and nutrional deficiency in all the age groups(childrens, adults and senior citizens) without a proper diet. This is main reason behind to conduct many Nutrition conferences in Dubai as majority of UAE population who are effected from Nutrituional disorders are from Dubai Emirate.
GLOBAL NUTRITION REPORT:
Malnutrition is a universal issue holding back development with unacceptable human consequences and causing illness in the world population. Yet the opportunity to end malnutrition has never been greater. The UN Decade of Action on Nutrition 2016–2025 and the Sustainable Development Goals (SDGs) provide global and national impetus to address malnutrition and expedite progress.The burden of malnutrition across the world remains high, and progress remains slow. Malnutrition is one of the reason for more ill health in the population than other causes. Children under five years of age face multiple burdens: 150.8 million are stunted, 50.5 million are wasted and 38.3 million are overweight. Meanwhile 20 million babies are born of low birth weight in every year. Overweight and obesity among adults are at record levels with 38.9%, stretching from Africa to North America, and increasing among adolescents. Women have a higher burden than men when it comes to certain forms of malnutrition: one third of all women of reproductive age have anaemia and women have a higher prevalence of obesity than men. Millions of women are still underweight. Many countries are set to achieve the targets set by the global community to track progress on nutritional status to 2025.
TARGET AUDIENCE
Clinical nutritionists
Food technology researchers
Nutrition associations and societies
Scientists
Researches
Dietitians
Students
Quality control officers
Quality assurance officers
Food engineers
Business entrepreneurs
Industry professionals
Public health professionals
Fitness professionals
Pharmacists
Diabetes health professionals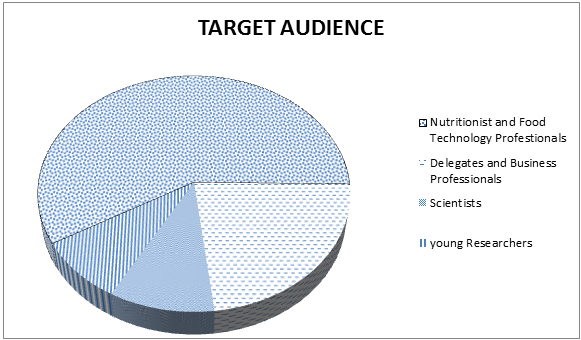 COMPANIES ASSOCIATED WITH NUTRITION:
National Food products company
Global food industries
Emirates Industrial & Trading Co Ltd
Food Emporium
SOLICO Food industries
Emirates Industrial & Trading Co Ltd
National Food Industries LLC (NFI)
Federal foods LLC
Sunlmpex Biz
Windsor Foodstuff Factory Ltd
Food Sciences Corporation
Nutrimax products
Nutrilite
Food Sciences Corporation
Top Universities World Wide:
Princeton University
Harvard University
Swarthmore College
Massachusetts Institute of Technology
The College of William and Mary
Williams College
Amherst College
University of Tokyo
National University of Singapore
University of Hong Kong
Peking University
Tsinghua University
Seoul National University
Nanyang Technological University
The Australian National University
The University of Sydney
The University of New South Wales
University of Auckland
The University of Queensland
TOP UNIVERSITIES IN UAE:
United Arab Emirates University
Canadian University of Dubai, Dubai
American University of Sharjah
Zayed University
Abu Dhabi University
Ajman University of Science and Technology
Khalifa University
American University in Dubai
Higher Colleges of Technology
Manipal University Dubai
International centre for Training and Developmentn
TOP UNIVERSITIES IN Dubai:
King Saud bin Abdulaziz University for Health Sciences
Beirut Arab University
Modern University for Business and Science
Holy Spirt University of Kaslik
American University in Dubai
University of Dubai
Notre Dame University
Manipal Academy of Higher Education – Mahe Dubai
UAE University
Related Conferences :
USA:
American Society for Nutrition, National Association of Nutrition Professionals, American Nutrition Association, ASPEN, American Council on Science and Health, Canadian Nutrition Society, Institute of Food Technologist, Food Standards Agency, American Public Health Association, Consumer Federation of America
Europe:
Austrian Nutrition Society, Belgian Nutrition Society, British Nutrition Society, Cyprus Dietetic & Nutrition Association, Danish Nutrition Society, Federation of European Nutrition Societies, French Nutrition Society, German Nutrition Society Italian Nutrition Society, Norwegian Nutrition Society, Spanish Nutrition Society, Swiss Nutrition Society, Swedish Nutrition Foundation, Argentine Association of Enteral and Parenteral Nutrition, Society of Nutrition and Food Science, Danish Society for Clinical Nutrition, Brazilian Parenteral and Enteral Nutrition Society, Society for clinical nutrition of Switzerland, Bord Bia, Food Safety Authority of Ireland, Chilled food Association, Austrian Society for Clinical Nutrition, Belgian Society of Clinical Nutrition
Asia-Pacific:
The Nutrition Society of Australia, Federation of Asian Nutrition Societies, The Indian Association for Parenteral and Enteral Nutrition, Society Of Parenteral and Enteral Nutrition of Thailand, Nutrition Society of India, Association of Health,Food, Nutrition and Dietetics, Dietians Association of Sri Lanka, Sri Lanka Medical Nutrition Association, Indonesian Nutrition Association, The Food and Nutrition Society of Indonesia, Japan Society of Nutrition and Food Science, Thai Frozen Foods Association, Nutrition society of Phillipines, Dietitians Association of Australia
Midlle East:
Emirati Culture, Middle East Gases Association, United Foods, UAE Association for food production, Food safety & Inspection Service(FSIS), Lebanese Academy for Nutrition and Dietetics, The Nutrition Society Paediatric Endocrine Society Saudi Arabia, Academy for Eating Disorders, Turkey Society of Endocrinology and Metabolism,The Egyptian Medical Association for the Study of Obesity, Emirates Diabetes Society, Iranian Nutrition Society.
To share your views and research, please click here to register for the Conference.
To Collaborate Scientific Professionals around the World
Special Issues
All accepted abstracts will be published in respective Our International Journals.
Abstracts will be provided with Digital Object Identifier by